SolarCable-6mm-1000m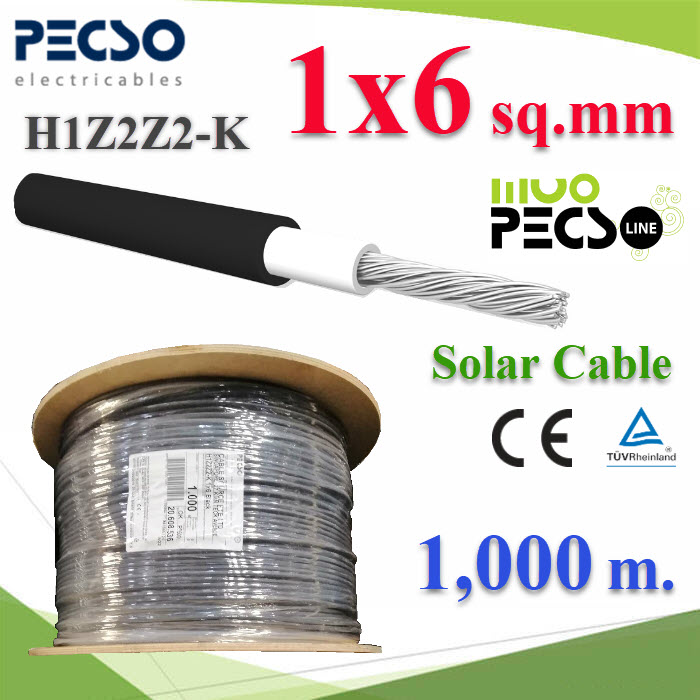 1000 เมตร สายไฟ Solar DC สำหรับ โซล่าเซลล์ PV1-F 1x6.0 mm2 สีดำ
Price 45,000 THB

We accept Bank Transfer






We accept credit cards
Visa, MasterCard , Paypal


---
Related Products
SolarCable-6mm-1000m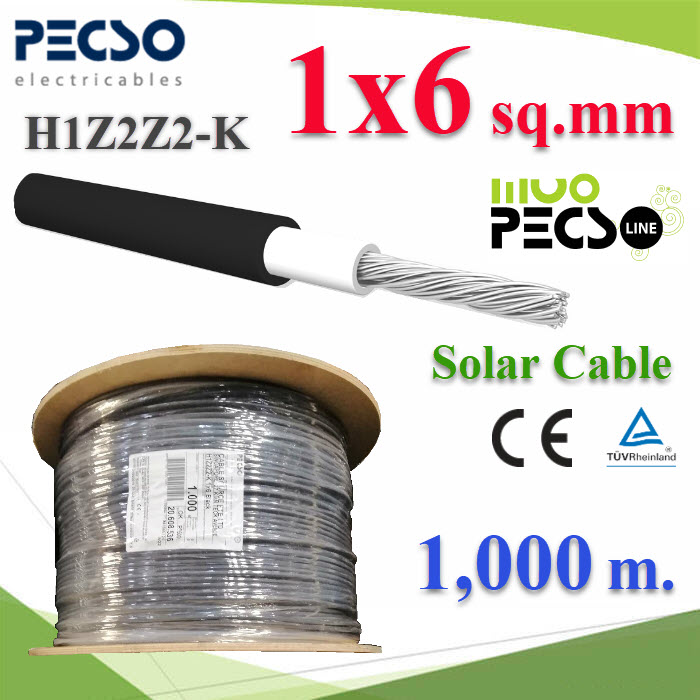 1000 เมตร สายไฟ Solar DC สำหรับ โซล่าเซลล์ PV1-F 1x6.0 mm2 สีดำ
Price 45,000 THB
Code : SolarCable-6mm-1000m
Solar Cable H1Z2Z2-K for use in Photovoltaic System 6 Sq.mm 1000m.
CABLE FOR USE IN PHOTOVOLTAIC SYSTEMS. conductors flexible cord in metal-coated annealed copper (HD 383), class 5. insulation Special cross-linked compound LSOH (Halogen Free) sheath special cross-linked compound LSOH (Halogen Free). identiFication colours Core identification white or black. Sheath standard color black - red. Marking PECSO MN H1Z2Z2-K 1x6 TUV Rheinland R 60114696 0001 CE ECOPECSO LINE.......mts. standards EN 50618 - RoHS 2011/65/UE UV-Resistance according to EN60811-501 Ozone resistant according to EN 60811-403 Flame retardant according to EN 60332-1-2 Halogen free according to EN 50267-2-1 - EN 60684-2.
Max rated voltage AC Uo/U 1/1 KV DC 1,8 Kv (conductor-conductor, non-earthed system, circuit not under load). Period of use 25 years in standard conditions. Temperature index 120 C based on CEI EN 60216-1 (20.000 hours). Suitable for cabling in photovoltaic system. Suitable for fixed laying inside and outside, unprotective pipes within sight or cashed out, or similar closed system. Cable not suitable for direct burial. Max. storage temperature 40 C. Min. temperature for installation and handling - 25 C. The permitted short-circuit-temperature is 250 C referring to a period of 5 s.
Price : 45,000.00 THB
---
Group product : 6mm Solar Cable PV1-F
Item specifics
Photovoltaic Solar Cable :
H1Z2Z2-K
Brand :
PECSO
Cross-sectional area :
1x6.0 Sq.mm.
Max diameter Ø :
7.4 mm.
diameter max. of wires :
0.31 mm
WEIGHT :
81 Kg / Km.
Max.conductor temperature :
120 ํC
Color :
BLACK สีดำ
ความยาวม้วน :
1,000 m.


Product Review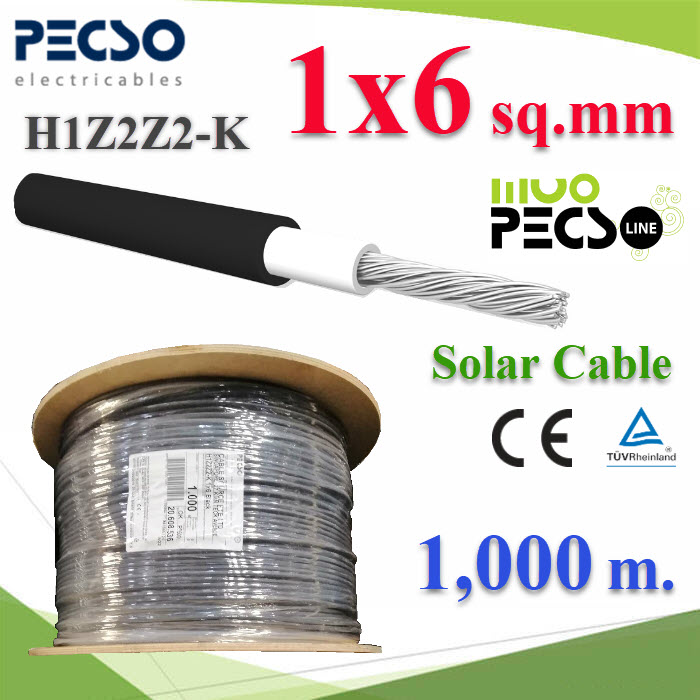 ---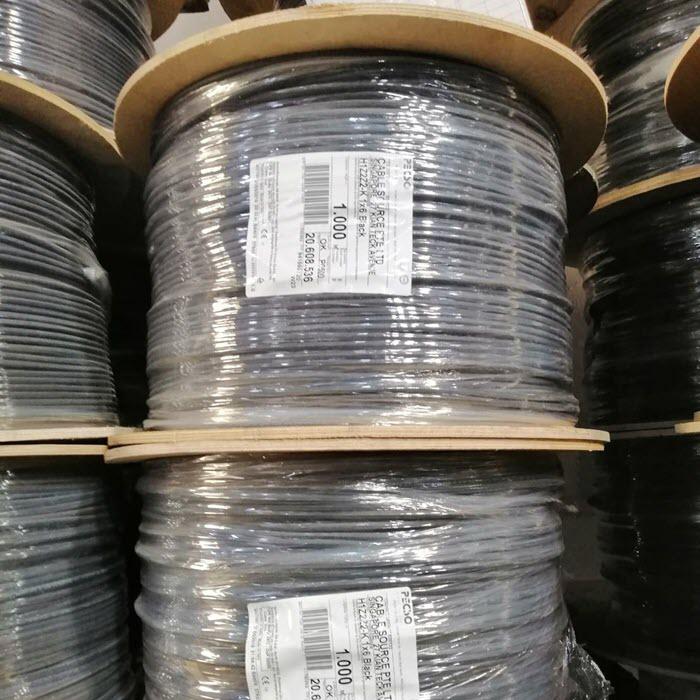 ---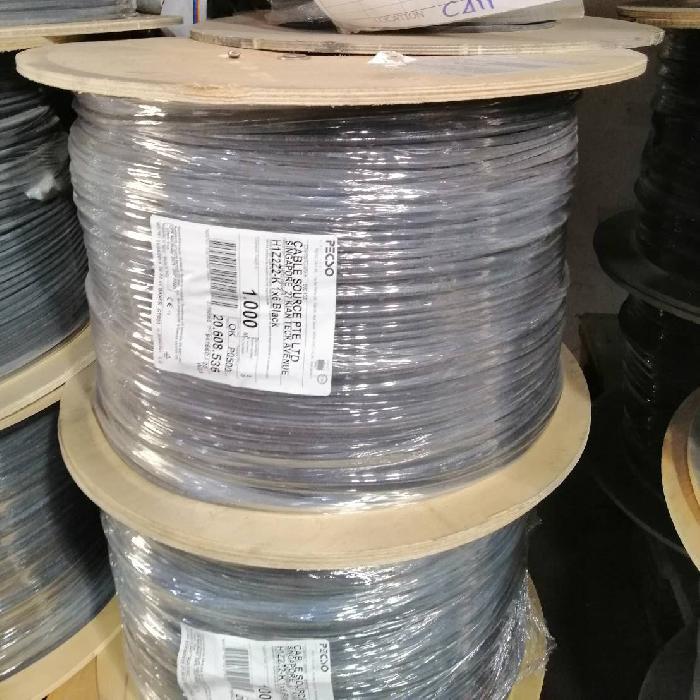 ---